PERFECT LOGS NEVER MAKE IT TO THE FLOORING INDUSTRY
VENEER MILLS WILL PAY UP TO 20 TIMES MORE FOR A PERFECT LOG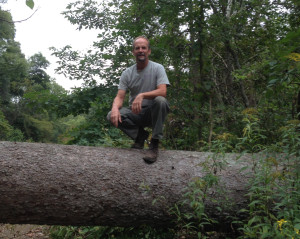 The trees that make unblemished wood start life in a dense forest. In their early years they do not produce many branches instead they concentrated growing higher in order to penetrate the canopy for sun light.
Perfect logs are rare. Prized for their consistent color, tight grain patterns, uniformity of ring spacing and lack of blemishes. You can not achieve perfect flooring with out perfect logs.
We thoughtfully hand select each tree to ensure our forest's sustainability. We strive for a spiritual harmony between man and nature.
Charles Peterson Signature Flooring is the only wood flooring manufacturer to craft wood flooring from perfect logs.
When a forest is logged, there are three buyer groups buying either veneer logs, saw logs or pallet logs. The veneer industry will pay between three to 20 times the amount that wood floor manufacturers pay for the saw logs.
They can do this because they can slice up to 10,000 square feet of very thin veneer from an average log. These logs are bought by veneer mills and cut into paper thin pieces to be used in the most coveted wood products such as musical instruments and fine furniture for the most environmentally sound use of such a rare natural resource. The same log would produce about 200 board feet of solid lumber.
Acquiring perfect logs cost money and their availability is scarce. Processing these logs into perfectly grain matched flooring is labor and specialized equipment intensive. Other flooring mills do not want to invest their time and money in a low volume, very custom product.